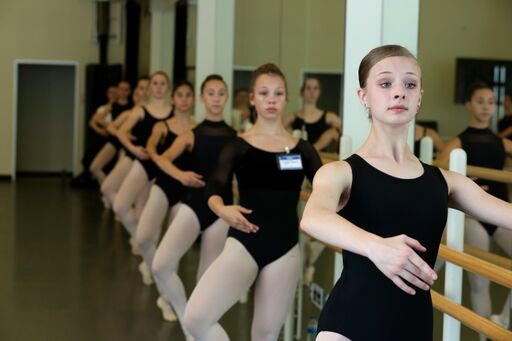 artÉmotion Pre- Professional
Summer Intensive
Wolstein Center, Cleveland State University Cleveland, Ohio
June 15th thru July 3rd 2020
Photo by Joshua Whitehead
ages 12-21
(Audition required)

Our Pre-Professional Summer Intensive is a ballet focused program. Classes offered include Ballet Technique, Pointe, Classical Variations, Men's Class, Partnering, Contemporary, Choreography, Corps to the Core, Character, Jazz, and Acting Technique. Seminar topics include Hair and Make-Up for Stage, Etiquette for the Studio/Theatre, Dance History, Nutrition, Injury Prevention and more! Students will also partake in Art with Alli, where they will be asked to reflect on their work at artÉmotion and research topics on dance. Students will have the opportunity to dance in a performance the last day of the program.
In addition to our our world class faculty, Ballet West Artistic Director, Adam Sklute, and Ballet West Academy Director, Peter Merz, will be present to teach classes and watch the students' final performance. They will be adjudicating students for offers to Ballet West's 2021 Summer Intensive in Salt Lake City, as well as Ballet West Academy's year around programs.

*Denotes a class designed by Allison DeBona. Corps to the Core is being implemented to help students prepare for Company life in the corps de ballet.
Please note, your student will only be permitted to participate in the performance if they commit to the entire program. No exceptions.
$2000
Total due by APRIL 17TH 2020
$500 Deposit will be due at registration. NO REFUNDS.
send inquires to info@artemotion-summerintensive.com
housing
Fenn Tower at Cleveland State University
$1050
Total due by April 17th 2020
$225 Deposit due at registration
June 15th thru July 3rd 2020
Check out Fenn Towers HERE
*Linen Service is included and offers 1 pillow, 1 blanket, sheets, pillowcase, 2 towels and a washcloth.
Food
provided by phuel cafe
$675
June 15th thru july 3rd 2020
Total due by April 17th 2020
$150 Deposit due at registration
Visit Menu www.phuelcafe.com
Note that food will not be available to students on check-in (June 14th 2020) date. Food plan is only available to Pre-Professional Full Day students.



Scholarships and work study
A limited amount of scholarships, financial aid, and work study opportunities are available for artÉmotion Summer Intensive's Cleveland programs. Room and board is not covered by scholarships, financial aid, or work study. In order to apply for financial aid or work study, students must have been accepted into the program as well as secured their place in the program by paying the $500.00 deposit.
artÉmotion does not oversee Financial Aid for the Ballet West Summer Intensive or artÉmotion/Ballet West Choreographic Workshop. Please contact summerintensive@balletwest.org for information.
There will be an end of intensive performance on Friday, July 3rd 2020. Move out from the dorms will also take place on Friday, July 3rd, 2020. Families will be invited to attend. Parents will not be permitted to observe any classes or rehearsals at the program, with the exception of the final day, Friday, July 3rd, 2020.